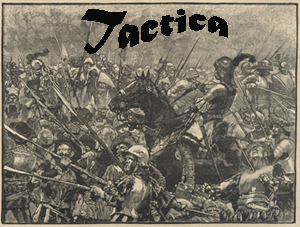 Tactica was conceived and developed by Paul McNeil who spent decades studying Military History and carving a career in Sales in the Computer Industry culminating in the Managing Directorship of a Multi-National Software Company, and being a member of the Management Team that successfully sold the company to a large US Corporate in 2007.
During his career Paul has worked for some of the largest companies in the Computer industry such as IBM, and often found himself as part of smaller companies that became large during his tenure such as Amdahl and BMC Software. His proudest time was as Managing Director of Proxima Technology EMEA, where he helped to lead the company from a small office behind a McDonalds in a run down London Suburb, to a Multinational independent Software Company with offices in Denver, Windsor, Hamburg, Dublin, Budapest, and Sydney.
Having been both on the side of the large vendors fighting off attacks from small, innovative competitors, and on the other side of the fence bringing small Computer companies to market taking on the big boys such as IBM and HP, he has been uniquely placed to understand the pressures, strengths and weaknesses of all parties, and how to exploit these to Sales advantage.
Seeing the Philosophical similarity between the strategies and Tactics used in Warfare, and those of the Commercial Marketplace has allowed him to formulate Tactica as a distillation of practical experience, and intellectual knowledge, in an easily digestible package for Sales Teams. Paul has performed Sales Training at companies such as SUN Microsystems, BMC Software, Compuware Corporation, and Proxima Technology.
Paul McNeil is a member of:
The Institute of Directors where he gives his time as a Mentor to up and coming business directors needing help and advice on growing their businesses and improving sales.
The Council for British Archaeology
Mensa; the organisation for people with Genius level IQs.
...and has had numerous articles published on Military History. His study trips have taken him to the battlefields of Europe and North Africa, Ancient Viking sites in Scandinavia, Russia, Scotland, and Ireland, and he has studied Asian warfare as far afield as Turkey, Kazakhstan, Uzebekistan, and Tajikistan, and most recently to the site of the Terracotta Warriors in Xian China.