"If you are not fortunate enough to follow a great plan through to its perfection, you will nevertheless go much further than the generals who, acting without a plan, make war from day to day". - Frederick The Great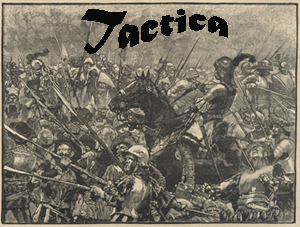 Tactica is the result of 20 years application of Military Philosophy to Sales Campaigns. In that time it has helped Salespeople smash their targets, Sales Managers plan winning Strategies for Campaigns, and Technical Groups take on and beat attacks by competing companies. Tactica's greatest triumph was to help take a small Software Company huddled behind a McDonalds Restaurant in a rundown London suburb, to a Multi-National enterprise.
All Tactica Products and Services are derived from the Book "Tactica" which shows how Military Philosophy can be applied to High Value Sales Campaigns.
Services and products available are:
Tactica Sales Training
Tactica trains Sales Teams to think like Generals. Tactica will enable your Sales Teams to:
· Use advanced Principles to plan Campaigns, develop Strategies, and carry out the Tactics for success.
· Identify the underlying Pattern of opportunities and take the correct actions to exploit or change that Pattern.
· Multiply their chances of success by Concentration of Force, Use of Initiative, and Exploitation of "Ground" within the prospect.
The Results will be "Blitzkrieg" Sales Campaigns by more able and confident Sales people.
Tactica Sales Training comprises three separate one day modules which can be taken consecutively or independently. Included are Instruction, Examples, Reusable Campaign Manual, and Certification.
Tactica Campaign Coaching
Need to perk up current Sales Campaigns or sanity check them to better understand their chances of success? Then Tactica Campaign Coaching will bring a fresh set of experienced eyes to help move things forward. Includes Coaching, Campaign Planning, and ongoing assessment.
Tactica Speaking Engagements
Need an experienced and uplifting speaker to wake up an audience at the end of a Sales Seminar, or to fire up new ideas in a Sales Team at the beginning of a Sales Meeting? Then why not let the Author of Tactica inspire your team to new heights?
Tactica The Book
The bedrock of all other Tactica offerings, Tactica The Book is the distilled knowledge of decades of study of Military Philosophy and its application to the Strategy and Tactics of High Value Sales in the commercial world.